Global Warming, which is also referred to as climate change, is a topic that has become increasingly a matter of interest to people as weather and climate patterns appear to be changing in unprecedented ways. Many of those changes are most prevalent in arctic and antarctic regions. Scientists in Alaska are among those who have taken an active interest in studying this phenomenon.
News about this phenomenon is appearing regularly in popular media, and I believe it might be useful as well as interesting to begin archiving references to climate change events. This article will serve as a starting point for information about evidence of global warming in Alaska.
The Intergovernmental Panel on Climate Change (IPCC) was established in 1988 by two United Nations organizations, the World Meteorological Organization (WMO) and the United Nations Environment Programme (UNEP), to evaluate the risk of climate change brought on by humans, based mainly on peer reviewed and published scientific/technical literature
Effects of Global Warming
Edit
Global warming is expected to have profound effects on a global scale in the coming decades. Danger signs are mounting and becoming increasingly difficult to ignore. The changes and challenges that are anticipated will involve physical, biological, and economic systems. These changes will undoubtedly trigger responses in a ripple effect that will persist long into the future.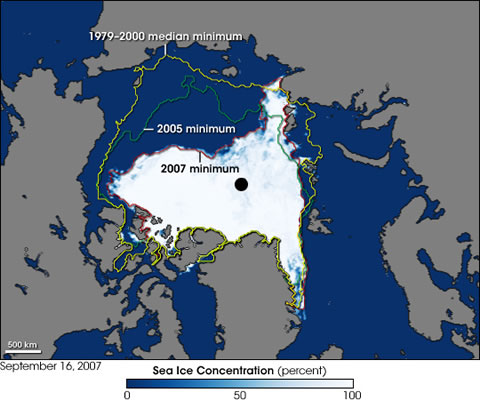 BBC News reports that arctic summers may be ice free in the Arctic Ocean by the year 2013. The report claims that "The minimum ice extent reached in September 2007 shattered the previous record for ice withdrawal set in 2005, of 5.32 million square km.
The long-term average minimum, based on data from 1979 to 2000, is 6.74 million square km. In comparison, 2007 was lower by 2.61 million square km, an area approximately equal to the size of Alaska and Texas combined, or the size of 10 United Kingdoms."
The dramatic reduction of sea ice is due to dramatic thinning which makes it more susceptible to additional melting in subsequent summers.
see NASA Earth Observatory's report.
Wildlife Habitat
Edit
Alaska Coastal Erosion appears to be accelerating, according to a recent USGS press release: An article by U.S. Geological Survey (USGS) scientists on documentation of coastal land loss, lake expansion and drainage in Alaska from 1955 - 2005 was recently published in the July issue of Geology, a Geological Society of America publication. In analyzing Landsat data and topographic maps compiled from aerial photographs, scientists found that land loss in the study area north of Teshekpuk Lake in Alaska's National Petroleum Reserve more than doubled from 1985 - 2005, compared to the 30-year span from 1955 - 1985. Analysis of these spatial images found that some areas have undergone as much as 0.9 km of coastal erosion in the past 50 years, which has drained and re-flooded arctic lakes with sea water, and impacted wildlife and human infrastructure.
"This area's increased rate of coastal erosion over these time increments may be the result of greater wave action caused by earlier seasonal melting and reduced size of the Arctic ice pack, which warrants further study," said USGS scientist John Mars. "Since beaches are absent or poorly developed along most of the studied coast, there is little, if any, protection against this increased wave energy. As a result, the waves undercut the mud-rich permafrost land, causing it to collapse into the sea. As the permafrost blocks melt, the muddy sediment they contain is re-suspended in the water and carried offshore."
USGS images of Alaska's coast during each time increment, consolidated to show the net-change in land loss and land gain, as well as coastal lake drainage and flooding, can be found at the Alaska Coastal Erosion Web site.The report, titled "Quantitative Remote Sensing Study Indicates Doubling of Coastal Erosion Rate in Past 50 Years along a Segment of the Arctic Coast of Alaska," by USGS scientists John Mars and David Houseknecht, can be found on the Geological Society of America Web site.
Scientists believe these results can help land and resource managers make informed decisions about managing the Arctic area's oil and gas exploration and wildlife habitats, as well as contribute to a greater understanding of geologic processes and anticipate future change.
One of the conditions that people in the interior of Alaska are beginning to wonder about is that summers seem to be getting warmer and drier. Wildfire is becoming increasingly common, and makes life difficult for people who have to suffer the effects of living in heavy forest fire smoke for weeks on end.
Links to news articles.